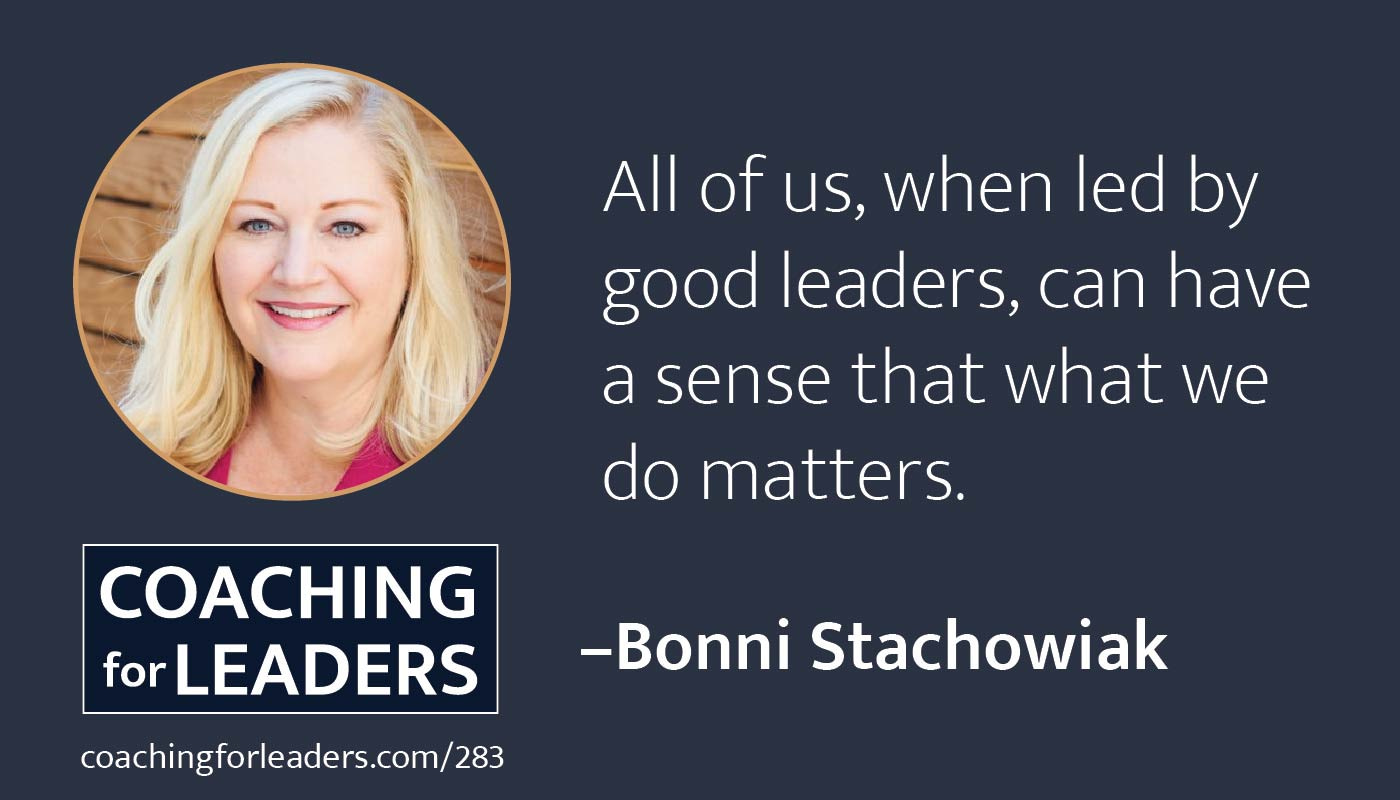 Monday's Episode
283: How to Create a Mission Statement and More Questions: Bonni joined me to respond to questions from listeners on creating a mission statement, seeking feedback at work, and managing a large professional network.
Questions
Dustin asked about the distinction between mission and vision and how to get started on both in his organization.
Andrew asked about how we remember to connect people in our network and stay in touch with the right people.
Etai asked if asking for feedback too often might been seen as weak in his organization.
Josh asked about resources for books and podcasts on leadership development in Spanish for his team.
Resources Mentioned
Related Episodes
Quick Reads
How to Coach Like a Leader…Even (Especially) When You're a Skeptic: Fantastic article on how leaders can utilize good coaching skills from next week's guest, Michael Bungay Stanier.
How to Change a Selfish Person's Stripes: Practical advice from past guest Adam Grant on what do when you've got to deal with a taker.
Researchers Confirm that Americans Who Always Say That They're "Busy" are Actually Seen as More Important: I use "fabulous" as my default response to the "how are you?" question (since compared to most of the world, I am). It's surprising how often that opens up a fun dialogue, but apparently I'm likely seen as less important.
Why the Secret to Productivity Isn't Longer Hours: Directly related to the point in the prior article. Again and again, research is showing that working more doesn't get the results most people think it does.
Instead of Leaving a Job, Why Not Take a Pause?: Of course not possible for everyone, but an option for some to help find the meaning and purpose so many of us seek. Reminds me also of one of my favorite books: Transitions: Making Sense of Life's Changes*.
Audio
Yes, Digital Literacy, But Which One: I found this interview Bonni recently aired to be fascinating. It's surprising how bad we are at judging the credibility of what we find online — and they offer tips on how to get a lot better. Plus, details about cadaver Easter eggs (really).
Video
Understanding – A 35mm Film by Director Terry Rayment: A 3-minute film capturing the transformational power of love. Thanks Kodak.