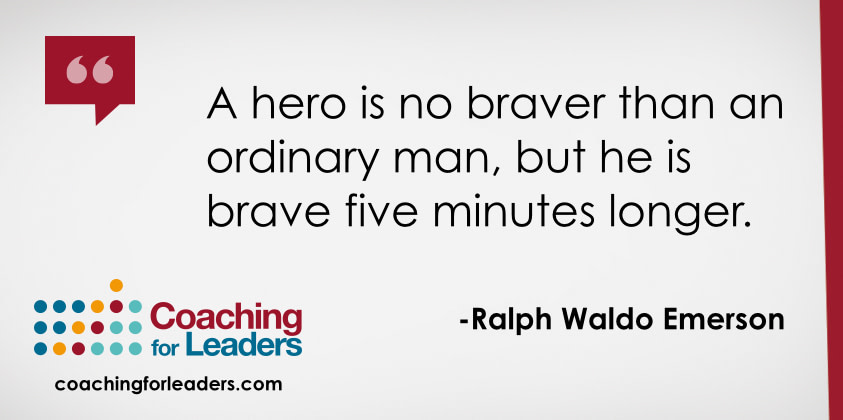 Ralph Waldo Emerson said:
A hero is no braver than an ordinary man, but he is brave five minutes longer.
This quote rings true when I think of great leaders I know and how they influence the world. Although many of them are bright people with solid experience, I also know plenty of bright, experienced people without effective leadership skills.
The difference maker I've consistently noticed is in the enthusiasm and care great leaders demonstrate in asking the next question, challenging something that doesn't seem quite right, and working for what's best for their organization and team in the long-run (easier said than done, I know).
This week's picks will encourage you to consider strategies that will help you be brave five minutes longer.
Play Office Politics
When working with a partner on a past project, we got to talking about some of the patterns we were seeing with the leaders in the organization. People seemed to fall into two general categories:
One group of leaders had become so frustrated with internal politics that they were either running into major obstacles on a fairly regular basis, or they had essentially given up hope of ever making any real progress.
The second group had also hit frustrations, but had typically responded by building relationships, observing how things got done in the organization, and flexing their style in order to influence. They not only got a lot more things done, but appeared a lot happier in their jobs.
The second group learned how to play the game. They didn't avoid office politics. They learned how to navigate through trial and error and used their discoveries in order to get things done for everyone's benefit. Harvard Business Review cemented the point last week, saying that office politics is just influence by another name.
Fix the Real Problem
Yesterday I was using an online service provider to our organization and a survey popped up asking for feedback. As I had just experienced a frustration with their service, I left a mediocre rating along with a detailed comment on exactly what I thought could be done to improve.
After submitting the complaint, the very next screen asked me to join their referral program so that I could recommend their service to friends and colleagues. Sigh.
Many organizations automate everything possible to minimize time interactions with the customer. Seth Godin writes in this article that great leaders will make the time to ensure their organization is actually listening to what customers are saying. For those with the courage to spend a bit of time and resources, the upside potential is substantial.
Think Curious George
When I teach classes on dialogue and conflict, I often find myself referencing the popular Curious George books that many people read as kids. I encourage people to approach leadership situations just like the monkey would – with a genuine curiosity about the other party's thoughts and motivations.
It's a heck of a lot easier just to judge people and move on (as I know from too many of my own personal experiences). Curiosity takes longer than judgement, and despite the friendly smile on the monkey, is a lot harder.
That's why Fortune advises that giving up judgement could be the single best goal you can set for 2015.
Wait Wait…Don't Cell Me!
Before the days of smartphones, our Dale Carnegie office had an awesome intercom system built into every phone so people could chat with each other throughout the day and accept reception calls quickly.
Whenever I would walk into Tom's office (my boss at the time) for a personal meeting, the first thing he would do was to hit the "do not disturb" button on his phone. On the rare occasions when he'd forget and someone ringed in, he'd politely ask, "I'm in with Dave, can the conversation wait?"and then proceed to apologize to me for the interruption.
I still remember this practice years later. He always made me feel like the most important person during our meetings (and of course, he did this for everyone).
Turns out the research backs up this practice too. A recent study shows that even presence of a smartphone lowers the quality of the conversation. I've adopted this practice in our family life too and often leave my phone in my home office when the workday is done, until well after the kids are in bed.
Lead Like The Janitor?
Every few months, I receive an email like this:
I came across your show listed awhile ago, but I passed it up because I'm not a leader. I saw it again recently and started listening – and now I realize that there's a lot for me to gain.
Emails like this make me both happy and sad. Happy because I'm always thrilled to hear when people gain something from the show. Sad because it highlights the myth that people need to have a title like "vice president" at a Fortune 500 company to be considered a leader.
Leadership is about influence, not title or position. That's why I was thrilled when my friend Adam Hagerman shared a story from CBS with me this week about a high school janitor going above and beyond. If ever you needed a 2-minute case for how you can lead from anywhere, this is it.
Whether you are the CEO or the janitor, my hope for you this week is that you'll have the courage to consider being brave five minutes longer.
Your thoughts are welcome at this link.
---
Monday's Show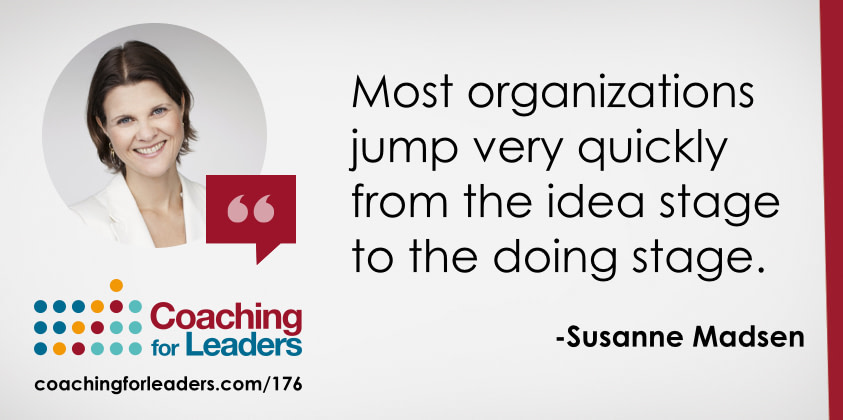 176: Practical Strategy for Project Management
While many Coaching for Leaders episodes would be helpful for project managers, this week's show hit the topic head-on with Susanne Madsen. Her experience helping people make the shift from project manager to confident leader is captured in depth in her new book, The Power of Project Leadership*.
We discussed just a small portion of the book on Monday. My favorite part? Where she reminds all of us that we need to be strong enough to show weakness by asking the dumb question (hint: others will thank you too). The audio and notes are at this link.