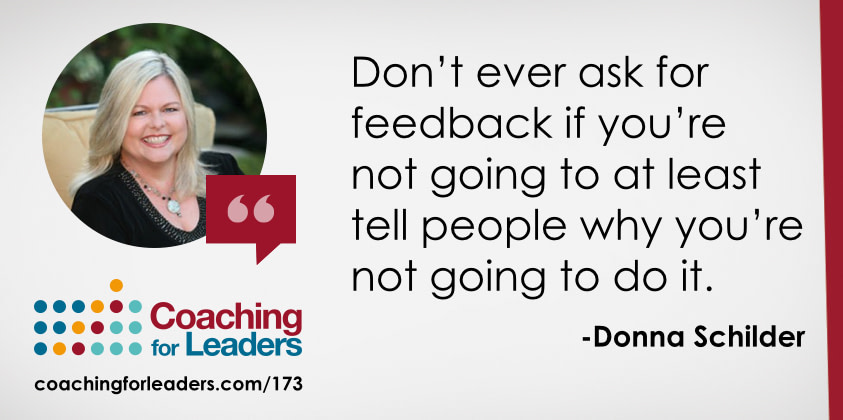 For the final show of the year, I was thrilled to welcome my friend Donna Schilder back to the show. Donna has been running a very successful coaching practice for many years and we've worked together on a number of projects in the past. She was most recently on episode 101 to teach us how to get the most from LinkedIn.
She detailed five power steps we can all take in order to handle bad behavior in meetings. The audio and notes are here and be sure to also check out the link at the bottom of this page from Donna with the downloadable PDF with even more details on the five steps.
---
My Weekly Picks
This week, emphasis on the word "my" since the picks are the best of 2014 from Coaching for Leaders. I'll return to the standard format next week of bringing in resources from others.
The Coaching for Leaders show aired every Monday this year. 50+ episodes later, I've gone back and reviewed all of the 2014 conversations and considered some of my favorites from the year. It was not an easy task, but I've been able to narrow the list to six episodes. If you started listening recently, here are certainly a few you'll want to go back and check out:
122: How To Create Joy At Work with Richard Sheridan
It was the first show of 2014 and I was completely impressed with how Richard Sheridan and his team have built Menlo Innovations into a company that truly embraces joy in the workplace (and creates amazing results). So many organizations I've worked with over the years would benefit tremendously from implementing even a few ideas that have worked at Menlo.
Every senior leader should consider Richard's wisdom and check out his book, Joy, Inc*. The audio and show notes are at this link.
129: How To Create A Personal Knowledge Management System with Bonni Stachowiak
Of all the shows Bonni and I recorded together, nothing generated the amount of email traffic and comments like this episode. We reviewed how we take in all our information (especially online), process and make sense of it, and then share it with others. If you've ever felt overwhelmed with too much information coming your way and don't feel like you have a system working for you, this is the episode to check out.
We've both made some changes to our system and software in the past year, but the core principles and structure remain the same. Here's the audio and show notes.
136: How To Create Leadership Connections in The Smallest of Moments with Douglas Conant
We've all heard that you should block time to keep people out of your hair so you can get work done. Doug Conant made a strong case on this episode to utilize these moments as TouchPoints. Doug has a stellar record as the former CEO of Campbell's Soup and President of Nabisco, so he knows a thing or two about leading people and organizations.
For weeks after this conversation with Doug, I found myself looking for ways to best utilize every interaction with people to the fullest. Check out his bestseller TouchPoints: Creating Powerful Leadership Connections in the Smallest of Moments* and the audio and notes from our conversation.
143: Accepting Feedback with Sheila Heen
I've long been a fan of the book Difficult Conversations*, so when I heard that the authors had a new book coming out, I pounced on the opportunity to get Sheila Heen on the show. Their new book, Thanks for the Feedback: The Science and Art of Receiving Feedback Well*, examines how we should receive feedback, not just give it (which it what we normally learn).
It's worth it along just to listen to the show just to discover how to best use this question: "What's one thing you see me doing (or failing to do) that holds me back?" Audio and notes are at this link.
148: The Four Stories Leaders Need For Influence with David Hutchens
My friend and regular guest Susan Gerke suggested David Hutchens as a guest for the show. Had I done my homework better on the amazing framework David teaches, he would had been on much sooner.
David helped us learn the four stories that every leader needs to tell and the practical strategy for how to do it in this episode. Virtually every leader has heard about the importance of storytelling, but David makes it practical and accessible. Check out the audio and notes here.
149: An Astronaut's Guide To Life On Earth with Astronaut Chris Hadfield
I walked into a bookstore this past weekend and Chris Hadfield's new book, You Are Here: Around the World in 92 Minutes*, was the first one I saw on the front table. However, his first book, An Astronaut's Guide to Life on Earth*, was the one that got him on my radar screen for the show.
It reminded me how much of his experience commanding the International Space Station and career as an astronaut could be valuable learning to every leader. I especially loved how he answered my last question about how successful people handle what's next. Here's the audio and notes.
My Favorite Moment
Finally, my favorite moment on air during the year was when our 2-year-old son Luke recorded the introduction to episode 171. He loves coming into the studio, putting on our headsets, and listening to the show music…so it was time for his audio debut.
A day later when I was putting him to bed, he looked up at me, smiled, and said, "Coaching for Leaders." He had so much fun doing the recording and I love that it also happened to be the show about not living with regret. Here's the audio.
Your Review Matters
Every January, millions of people search online for resources that will help them improve in the New Year. If you've been listening to Coaching for Leaders long enough to submit an honest review on either iTunes or Stitcher, I'd be grateful if you'd take 2 minutes to do so. It makes a big difference to this show being found and becoming a part of the lives and work of many of these people searching.
Thanks in advance if you are able to leave a rating or review here on iTunes or here on Stitcher. Our growing community will support so much growth for all of us in 2015 and beyond.
Happy New Year!