Application for new seats in the Coaching for Leaders Mastermind are open! Discover more about Mastermind membership and qualifications to apply.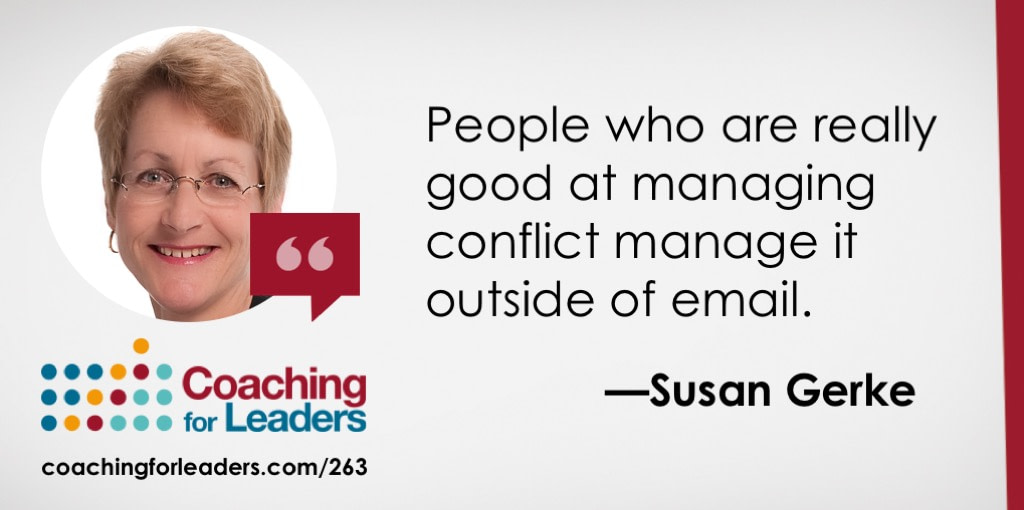 Monday's Episode
263: How to Benefit From Conflict: Susan Gerke (web) has worked with global teams and has certified facilitators around the world. She is also the co-creator of GO Team, a training suite for organizations to power team performance. She joined me this week to discuss how we can all benefit from conflict.
Key Points
The AIM Frame:
What happened?
What's the goal?
What options are there to move forward?
Resources Mentioned
Related Episodes
Quick Reads
Here's Why You Absolutely Must Do Things You're Really Bad At: Love the story here about Florence Foster Jenkins. And, point #4 absolutely nails the value of it.
Good Presentations Need to Make People Uncomfortable: Fully detailing the problem before trying to influence change is a crucial first step. Here's the "why" behind it.
EpiPen maker strays from its mission: Fully agree with past guest David Marquet's thoughts on this issue. The two lessons for all of us? 1. Have a mission. 2. Follow it.
People Tend to Accidentally Waste Their Precious Time Off From Work: This article perfectly captures why I don't watch television (but waste time in other ways).
Take breaks from focussed work to increase your productivity: Isabeau Iqbal listens to the podcast and took the lessons from Cal Newport's appearance earlier this year to do better. Her three simple steps may work for you too.
In-Depth Reads
White House women want to be in the room where it happens: Women make great strides in organizational influence over the last generation, but there is still much to do. Here's how women are navigating influence in one of the toughest workplaces.
Just For Fun
Built Ford Tough Ford trucks now Official Truck: A little reminder to keep language simple, whenever possible.