The Coaching for Leaders Academy opens doors for applications again in September. To grab a spot on the early alert list, click here.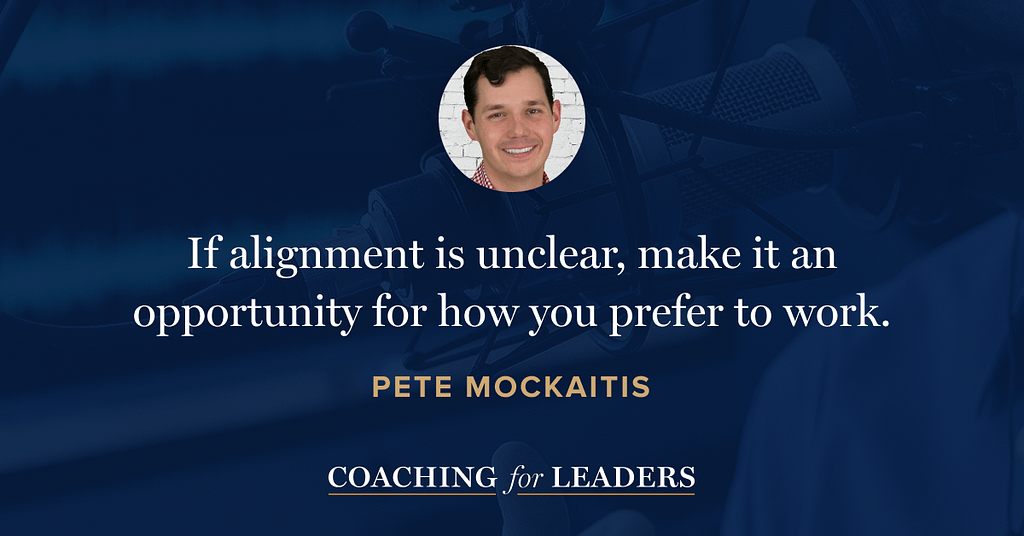 Pete Mockaitis is an award-winning trainer and coach who helps professionals perform optimally at work. He hosts the How to be Awesome at Your Job podcast, a show that has been downloaded eight million times and consistently ranks as a top business show in Apple Podcasts.
In this conversation, Pete and I explore some of the key mindsets and questions that are helpful when getting alignment with your boss. We explore the areas you'll want to generate clarity, as well a few key questions to consider.
Here are the most useful links from this episode:
If this episode helped, these will be useful too:
Recommended Reading
Peter Drucker's Advice to Aspiring Leaders: Helpful overview of one of the most important books on leadership in the 20th century.
Eight Reasons Why Introverts Make Great Leaders: Features also the wisdom of past guest Susan Cain.
Recovery Day: Past guest David Sparks on the importance of a recovery day after travel. Bonni and I have learned to also schedule, when possible, a "packing day" before a big trip.
Audio Gems
What Makes the Dollar Strong: We should all be aware of what's happening in the broader economy. If you're confused by the recent tariff news, you're not alone. This recent episode of Marketplace provided the best overview I've heard for the rest of us. Start listening at the 17:48 minute mark.
A Podcast About Podcasts: As a podcast listener, you should know how the business of podcasting typically works. Past guest Seth Godin shares a lot of insight here — and hits on some of the reasons I don't seek sponsors or third-party advertisers. By the way, if you're curious how the business behind Coaching for Leader works, here's the details.
Video Picks
Don't Fall Into the Advice Trap: 4 minutes of great advice from past guests Marshall Goldsmith and Michael Bungay Stanier. Also an early preview of what's coming in Michael's next book.
Dave's Journal
One Alternative to Standing Meetings: Feel like your meetings are getting repetitive? Instead of having a standing meeting, hold a learning meeting.
Next Week's Episode
Bonni and I celebrate 10 million downloads of the Coaching for Leaders podcast by sharing what's been useful to you.